User-controlled Software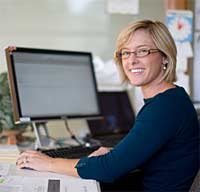 Employer's Business Solutions utilizes Millennium payroll software, the most advanced payroll solution in the industry. By integrating advanced functions like Reports and Human Resources, Millennium accelerates the completion of payroll processes and helps your company manage its personnel and financials with extraordinary ease.
Additional Software Features:
Multiple user access to software with password protected features.
Every year's data, which processed with EBS, available immediately. Easy employee verification, department payroll costs, etc.
Labor distribution & allocation tracking for over 5 cost centers / sorting.
Complete YTD employee history file, including check detail and compensation change detail by author.
Time clock interface with majority of manufacturers.
All benefit set-up tracking and administration (i.e. 401K, Time-Off Accruals, Garnishments, Unlimited Direct Deposits and Unlimited Deductions).
Easy to void and re-issue checks.
All tabs have customizable drop down fields to customize for your business needs.
Multiple checks for commission payrolls, etc.
Call 818-488-1690 now to discuss.