Insurance & Worker's Comp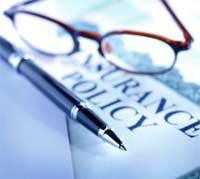 EBS offers full insurance brokerage services. And because we work with virtually every carrier that offers Worker's Comp, Healthcare and Business Liability coverage, we can shop the market to find you the most cost-effective plans with the coverage you require. Also, EBS offers its clients the option of doing the filing, reporting and management of any, or all, of your plans (optionally) at no additional cost – reducing the workload of your staff and saving your company money.
Save up to 30% on payroll and worker's comp.
Pay as you go worker's comp to avoid surprises.
Call 818-488-1690 now to discuss.
Worker's Comp

Workers Compensation Insurance is generally required by law, but by calling Employers Business Insurance, you can shop several carriers at once for the best value available. Coverage pays for the lost wages and medical expenses of employees who are injured on the job.

General Liability

An all encompassing type of insurance policy which covers all liability exposures for all locations and causes of loss except those specifically excluded in the policy. Bonds A three part contract in which one party guarantees the performance, act or behavior of another party for a third party. The two most common types of bonds are Surety and Fidelity.

Commercial Vehicle

Any insurance pertaining to the use or ownership of a vehicle. Common coverages are liability, physical damage and personal injury. Trucking coverage for local, intermediate and long haul, including cargo.

Bonds

A three part contract in which one party guarantees the performance, act or behavior of another party for a third party. The two most common types of bonds are Surety and Fidelity.

Employer Benefit Plan Liability

Protects the insured employer against claims by employee's or former employee's resulting from negligent acts or omission in the administration of the insureds employee benefit programs. The term "employee benefits programs" is defined to include group life insurance and group accident and/or health insurance; profit sharing plans; 401K plans; employee stock subscription plans; and worker's compensation, unemployment insurance, social security benefits, disability benefits, etc. Coverage is intended to extend to the "administration" of these plans, including counseling employee's, interpreting employee benefits programs, handling records, enrolling/terminating/canceling employee's in specified plans on a timely basis, etc.

Director & Officers Liability

Protects the corporation, directors & officers and employees for claims resulting from wrongful termination, sexual harassment, discrimination, wrongful discipline and failure to employ or promote. Whether you are right or wrong in the eyes of the jury, the typical defense cost alone averages $100,000.00 to $300,000.00 per case

Employment Practice Liability

Almost any day to day decision or action by anyone in the organization can trigger a lawsuit. Of all the lawsuits brought against non-profit organizations, more than 50% involve employees. Even with the most diligent efforts to prevent employment disputes, the following claims can and are often alleged against businesses:

Discrimination due to race, sex, age, national origin, religion, disability or sexual orientation
Sexual harassment
Wrongful termination
Promotion and compensation
Interference with employment contract
Hiring decisions
Conflicts of interest
Libel, slander & defamation of character
Failure to supervise employees
Copyright infringement, misrepresentation of ideas and unauthorized use of logos
Invasion of privacy

Commercial Property

Protects against physical damage to buildings, contents, stock and equipment. The terms and conditions of coverage are determined by the limit of insurance chosen by the policyholder. The limit is based on the items that the policyholder wishes to insure., i.e. buildings, inventory, business machinery, valuable papers, etc. Business Interruption and Extra Expense Coverage can also be provided under a Commercial Property policy. Business Interruption protects the policyholder against loss profits as a result of direct damage to the facility. Extra Expense provides payments for those extraordinary expenses necessary to continue operations after physical damage to the policyholders facilities.

Umbrella/Excess Liability

This type of liability insurance provides excess liability protection. Your business needs this coverage for the following three reasons…

It provides excess coverage over the "underlying" liability insurance you carry
It provides coverage for all other liability exposures, excepting a few specifically excluded exposures. This is subject of to a large deductible of $10,000.00
It provides automatic replacement coverage for underlying policies that have been reduced or exhausted by loss.